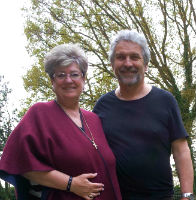 FAREWELL to Revd. Denise and Celebration of her Ministry
SUNDAY 7th July
Revd. Denise and Norman will be saying a fond farewell to Lacey Green and the Risborough Team on Sunday 7th July. Its going to be a real celebration. Starting with a 10.00 am at St. John's and a shared lunch ...
Much to give thanks for.
Followed by a service at 6.00 pm at St. Mary's.
All the Team Churches, Churches Together in Risborough, Town Council and other organisations are invited, as well as others from her and Norman's life and ministry. Whilst we are sad to be losing Denise, she has asked that this service is one of celebration of her ministry, with a mix of music and prayer.
Article Type: